There's nothing better than coming home, after a long day at the office, to a fully stocked bar.  There's no rude bartender you have to flag down, sticky floors or over priced, watered down drinks.  Instead, I can whip up whatever I might be in the mood for that while watching a football game or perhaps a enjoying a quiet evening on the porch.  It's an elegant luxury that's easy to acquire with just a little time and money. 
Image by Francesco Lagnese via HouseBeautiful
To start, it's time to upgrade from using that shelf above the fridge (that no one can reach) to a more practical location.  If you're lucky enough to have a bar cart, then congrats.  If not, look around and see if there is a piece of furniture that you can repurpose.  Perhaps you have an old tv stand, chest of drawers or even a changing table?!  A coat of paint, maybe some new knobs and you have a custom piece of bar furniture that's ready to be stocked.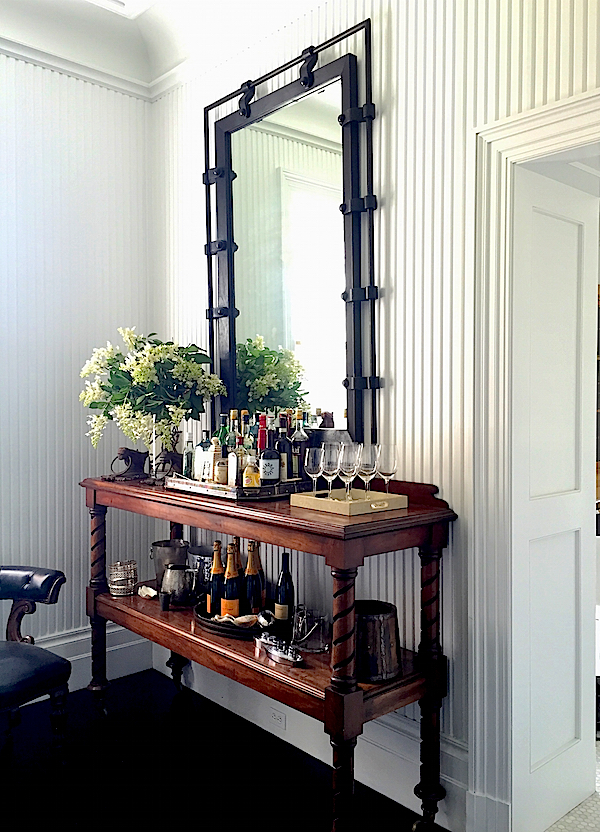 Image Source
it's time for the fun part.  Or you thought it was going to be fun until you walked into your local liquor store and became quite overwhelmed by the sheer quantity of bottles, the different types of spirits, brands and prices.  Rome wasn't built in a day and neither will your bar.  Begin with the basic liquors & liqueurs and please, begin with what you like.  I personally started with:
Bourbon
Gin
Tequila
Vodka
Rum (Dark & Light)
Vermouth (Sweet & Dry)
Orange (Grand Marnier/Cointreau)
Elderflower (St. Germain)
Even if you prefer your liquor on the rocks, a majority of your guest will need a mixer. I use:

Club Soda
Tonic Water
Ginger Ale
Ginger Beer
Fresh lemons & limes to be juiced as needed 
To round everything out there are a few "extras" to keep on hand:

Angostura bitters
Peychaud bitters
Olives
Cocktail Onions
Grenadine
Salt
Now, for the equipment.  Essential must haves include, a cocktail shaker, strainer, bar spoon, jigger, corkscrew and glasses.  In the beginning, to save on money, I like to pick glasses that can be used for more than one specific cocktail.  Double old-fashioned glasses have a great heft in the hand for your "on the rocks" libations while being large enough for those cocktails that require a highball glass (think Tequila Sunrise or Gin & Tonic).  If you feel like splurging, you can never go wrong with theses.  Coupes can be used for both martinis and champagne.  Wine glasses are another topic.  As long as you are not serving to a sommelier, I think a balloon glass works well for both red and whites. 

Image Source
Though not essential, an ice bucket, serving trays, picks and cocktails napkins will round out your home bar and make entertaining a breeze.

Cheers!
Note: As an Amazon Associate I earn from qualifying purchases via the links above.